Encouraging STEM fields uptake key to addressing gender diversity – Twitter Director of Public Policy at M&T Resources event
At M&T Resources' DIVERSITY event held at the Federation Square, Twitter's Director of Public Policy, Julie Inman-Grant delivered a keynote that espoused need for the IT industry to play a bigger role in addressing gender diversity, especially through encouraging more STEM fields uptake amongst the future generation.
"There is no substitute for leading by example and by consciously and consistently placing many qualified women into leadership and board positions.  We have seen some of this but we need to see more.  Women represent half of the populace – so we should achieve more parity in senior roles over time," says Julie.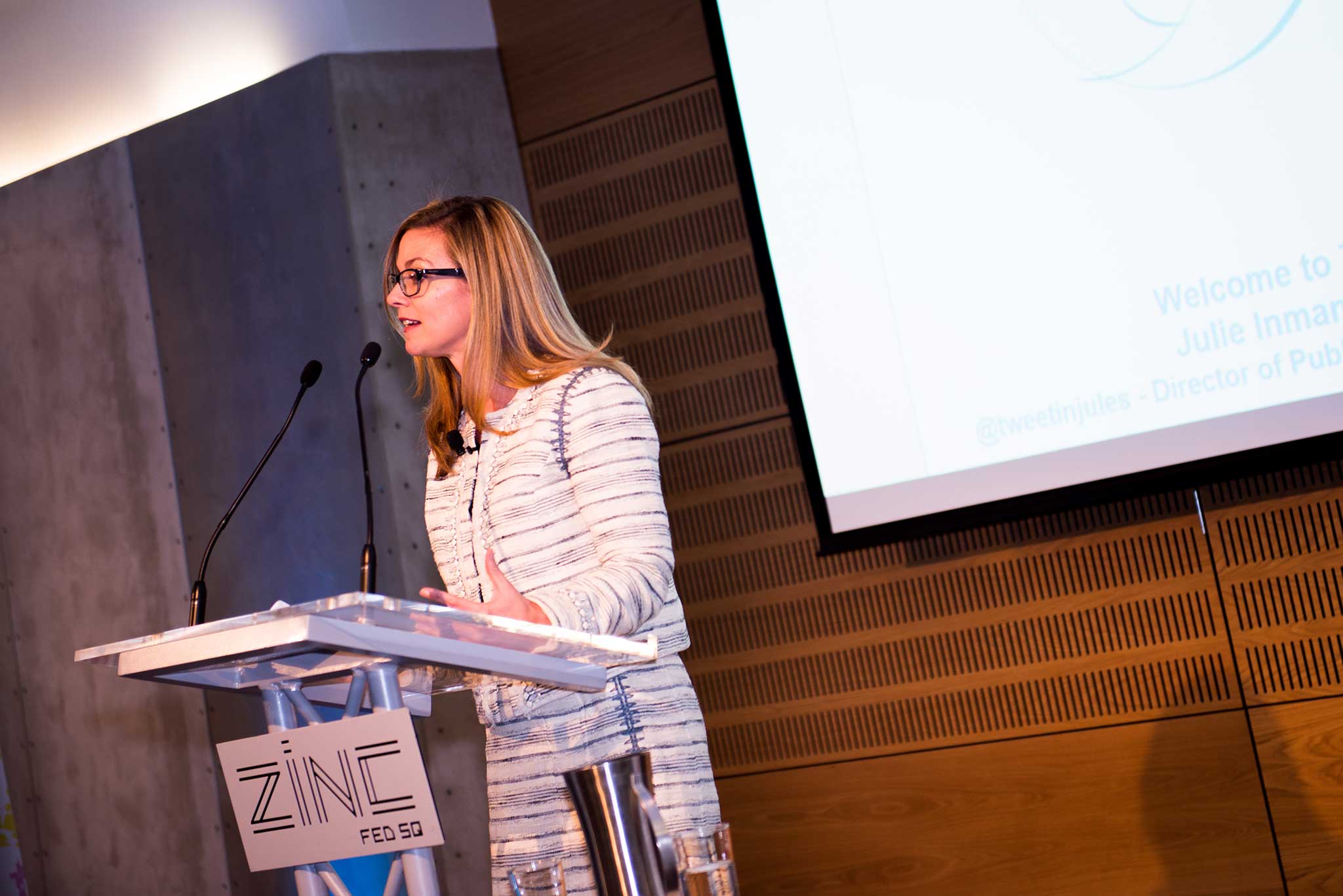 Keynote speaker, Julie Inman-Grant, Director of Public Policy at Twitter, at M&T Resources' Melbourne DIVERSITY event.
Addressing M&T Resources' clients from the likes of IAG, Telstra and Origin Energy, Julie highlighted the fact that only 18% of the technical and professional STEM workforce were women. She also mentioned that unconscious bias is still prevalent and is affecting hiring decisions.
"The key is to raise awareness of the bias and to work on strategies to consciously feed the hiring pipeline with diverse candidates and make conscious hiring decisions that foster diversity," says Julie. "Addressing gender parity within the ICT sector lies coming up with strategies to grow, bolster and direct this talent into STEM fields in education and eventually into the ICT workforce."
At Twitter, Julie mentioned some of the initiatives that they are driving to foster diversity internally, where there are affinity groups like "SuperWomen @ Twitter", and externally through supporting initiatives like YearUp, Girls Who Code and Go Girl Go For IT.
Commenting on the keynote, M&T Resources' Regional Director for Victoria, Ken Kwan, said, "As recruiters, we definitely see first hand how bias can influence hiring decisions, which is why raising awareness and training is so important. But everyone in the ICT industry needs to be part of the solution. With technology playing such a big role in our lives, having a diverse ICT workforce will be a key differentiator for innovation."
M&T Resources' past DIVERSITY events have featured high-profile speakers like the Hon. Anna Bligh, CEO of YWCA NSW and Naomi Simson, Founder of Red Balloon. The event concluded with the iPad Mini raffle prize giveaway, with all proceeds going to the Australian Children Deafness Foundation.
For more information on M&T Resources' DIVERSITY event, how to participate / become a keynote speaker, or discuss other partnership opportunities, please contact Jeremy Chen, Communications & Marketing Manager via email at Jeremy.Chen@www.mtr.com.au or call 02-9259 8708.