R U OK?Day: Supporting Mental Health and Wellbeing in the Workplace
September 10, 2020 @ 12:00 pm

-

1:00 pm
Join us for this interactive webinar on R U OK?Day where we will shine a spotlight on mental health and wellbeing in the workplace.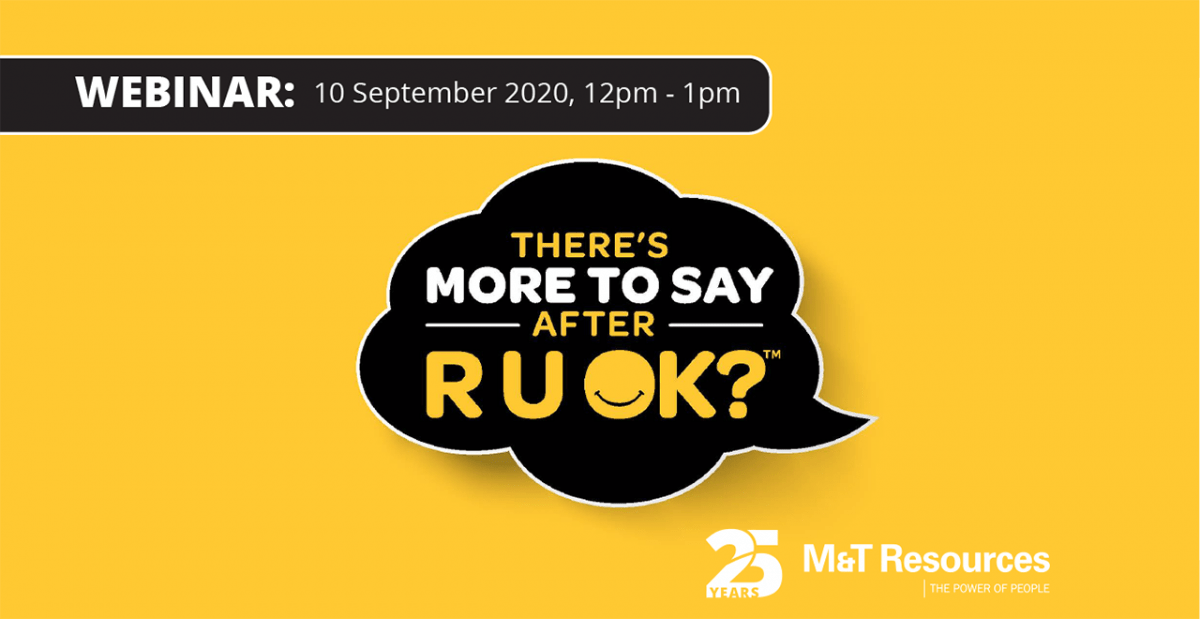 A conversation could change a life. In a time where people can feel disconnected and mental health can suffer, we hope this session will bring our audience some practical tips and ideas to support them to ask that crucial question: Are You OK?
Continuing our series of virtual events, in this webinar we will hear from leaders across health, mining and technology as they discuss initiatives and tools they have implemented to support their team's mental wellbeing. Our audience will also have the opportunity to ask questions directly to the panel, via our Zoom Q&A function.
Register for this event
To register and to receive access details for this free webinar event, please follow this link.
About the panel
Trish Cloete (Moderator), Principal Consultant (Organisational Psychologist), TMS Consulting
Trish is a registered and endorsed organisational psychologist with twenty years of consulting experience in the field of organisational development. She obtained her Master's degree (Organisational Psychology) in South Africa, and has worked closely with a range of diverse industries, both in the public and private sectors over the years. Trish has been a trusted Associate to a number of management consultancies, most notably Deloitte, Randstad, and Hudson.
.
Nichole Aird, Senior Director, Digital Application Services, Queensland Health
Nichole is a highly accomplished IT leader and organisational change manager with over twenty years' experience across multiple service delivery industries. She is a dedicated professional with excellent communication skills and commitment firmly focused on business improvement through the use of technology. She is a self-motivated individual with proven effectiveness operating in team and project environments. Nichole's teams are consistently recognised for their ability to delivery outcomes even under high degrees of pressure and under tight deadlines, while still making effective and informed decisions which are customer focused.
.
Alan Miles, Product Director (previously at Seer, Ansarada, Atlassian and The Iconic)
Alan is a discoverer, designer and problem solver. He helps people focus on positive challenges, following best practice process to create transformative solutions. Alan's career has led him to work for a range of large scale and international technology companies, where he has driven organisational change, directed multiple cross-functional teams delivering customer experience research and design, articulated product strategy and guided product from closed beta to first year product revenue.
.
Ken Johnson, Project Manager, BHP
Ken grew up travelling around Africa on his parents' medical expeditions before finally settling in Australia and then New Zealand. Since 2009 he has worked in various project management roles for industry vendors, EPCs and business owner's teams. Ken currently works for BHP as a Senior Project Manager delivering technology projects. Ken's first interest in mental health stemmed from seeing the void in understanding from society, compared with the wealth of knowledge surrounding physical health issues. Staggered at just how many people were affected in some way by either their own mental health experience or that of someone close them, he joined the Mental Health and Wellbeing Steering Committee at BHP to raise mental health awareness and help break down stigmatism surrounding it.
About the host
Johanna Bullin, Senior Account Manager, M&T Resources
Johanna Bullin is an Account Manager at M&T Resources, based in Brisbane. Johanna has over 10 years of experience specialising in digital and technology recruitment, with a particular focus on digital, customer experience, UX / UI and human centred design. Johanna's experience has included working with a wide selection of technology led start-ups, consultancies, government agencies and major corporations. Throughout her career Johanna has partnered with clients to build new teams and capabilities as well as conducting contingent and local / international retained search. Her style of engagement is to lead with empathy and continuously develop her knowledge of clients' markets to ensure a strategic approach to recruitment. Johanna initiated M&T Resources' Digital Transformation Series  and also runs our Head of Data Forum, eHealth Workshops and Meetups.