Salary Guide for Technology and Business 2019
Salary Guide for business, digital and technology roles in Australia.
The M&T Resources Salary Guide is updated based on the most recent placements that we have made through business, digital and technology recruitment across Australia.
The M&T Resources Salary Guide is a resource for business, digital and IT candidates, hiring managers and HR professionals to gain insight into what is happening in the market, and how to position themselves. Our Salary Guide is compiled by our team of experts who specialise in different sectors / role types / technical domains. Data is based on the job offers completed in the past 12 months and our guide is updated according to market changes.
Our Salary Guide details contract and permanent rates for a wide range of roles based on the types of positions we recruit for including:
Project Management Office (e.g. Project Managers, Program Directors, Change Manager)
Development (e.g. Business Analysts, Programmers, Architecture, Java Developers, iOS Developers, Android Developers, Release Managers)
Management (e.g. CIO, CTO, IT Managers, Help Desk Manager)
Digital & Design (e.g. CX Consultants, UX Designers, Digital Producers, Content Manager, SEO Consultants, Customer Acquisition, Web Developers).
Information & Data Management (e.g. Business Intelligence Consultant, Data Scientist, Customer Insights Manager, Database Developer)
Infrastructure (e.g. System Administrator, Network Engineers, Security Specialist, Infrastructure Architect)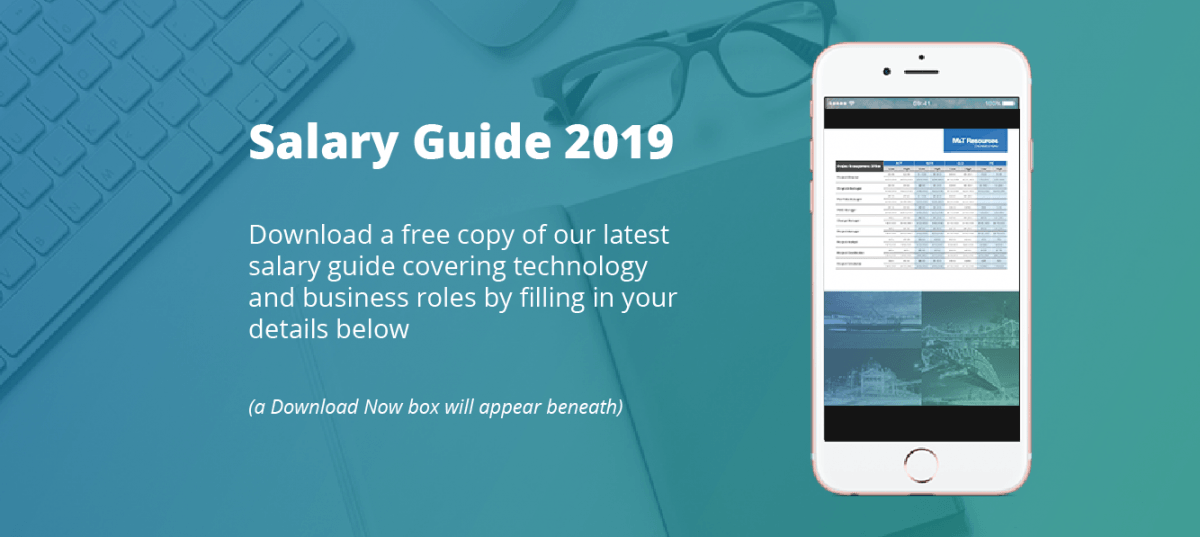 Keen for a new opportunity? Check out our current roles available.
About this Salary Guide
The salary guides detailed in this document are provided by M&T Resources as a resource for our clients and candidates.
The rates featured should be considered interpretive and a guideline only.
Data has been compiled based on job offers completed in the past quarter, in the technical verticals and locations in which we operate.
In roles where no salary rate has been defined, this indicates that we do not currently have a large enough sample of data to provide a reliable average.
The top lines are contract rates, while the bottom lines are permanent salaries.
All permanent salaries listed are base salaries only and do not include superannuation, bonus, commissions or other benefits.
All contractor rates listed are the 'Rate to the Contractor'. They include superannuation but do not include management fees, bonus, commissions or any other benefits or fees.