How to Work From Home, Effectively
Now more than ever, Australians and workers around the world are transitioning to a work from home model. We are seeing the rise of the a fully remote workplace.
For some, this is business as usual. For others, this is an entirely new reality which may have eventuated quite quickly and without notice, as a result of COVID-19 or other causes.
Remote working is a model that has been on the rise since the 90's with digital transformation and technologies making this possible without impacting efficiencies, output or a business's bottom line. In fact, studies have shown internationally that productivity can actually increase in a work from home or work from anywhere arrangement.
Offering flexible working has long been a focus for organisations seeking to attract and retain employees through a competitive employee value proposition. According to the SEEK Laws of Attraction, in the ICT industry the ability to work from home or remotely is identified as either a 'must have' or an opportunity that would 'delight' 72% of candidates.
Transitioning to a model where an entire workforce is working remotely will however be a novel reality for many organisations.
As such, it is a valuable time for organisations to explore and assess the challenges, intricacies and opportunities that come with driving a fully remote workforce. This deviation from the norm can be used to re-evaluate the ways in which we have become accustomed to working, allowing us to regroup, reassess and maybe implement changes for the benefit of our future workforce.
There are some obvious differences between these two models of workforce. The exact realities of which will vary across different organisations and roles. Some distinctive traits of a work from office vs work from home model are typically: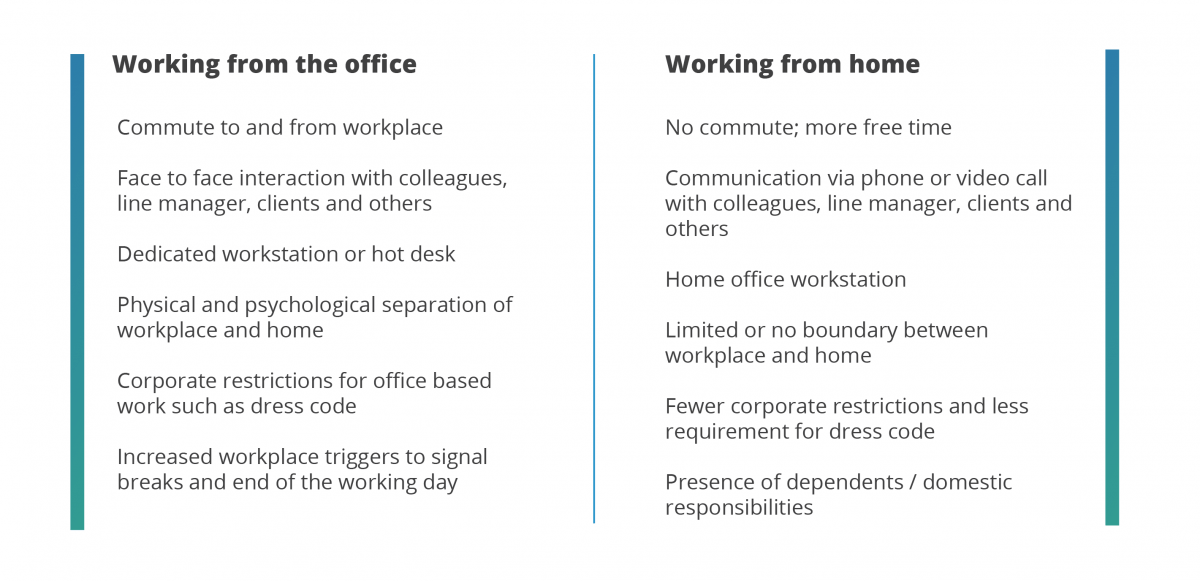 There is an inherent flexibility that comes with the work from home model, which eliminates the need to commute resulting in additional personal time which for many is in excess of 2 hours per day. When M&T Resources transitioned to a more flexible working model across 2019/2020, many employees opted into work from home days. The removal of the daily commute was cited as one of the most positive differences between their days at work and their days working remotely.
However, the two models of work also come with their own physical, technical and psychological challenges. The State of Remote Work Report undertaken by Buffer in 2019 revealed that whilst 99% of workers would like to work at least partially from home for the rest of their career, that they did encounter struggles operating from home. Unplugging from work was cited as the biggest challenge (22%) closely followed by loneliness (19%), issues with collaboration and/or communication (17%) and distractions (10%).
So how can we undertake a transition to remote working most smoothly and effectively? What can a remote workforce do to remain happy, productive, motivated and connected?
Home workstation
First and foremost, the best thing you can do to set yourself up for success when working from home is to develop an ergonomically sound workstation. Using a checklist can be a good way of achieving this. An ergonomic workstation is not only core to productivity but also to health and wellbeing. Whether working from home intermittently or as a more permanent routine, poor posture caused through an inappropriate work set up will ultimately result in poor mental and physical health, including headaches, neck and back pain. Refer to our guide to establishing an ergonomic home office.
At the very least, it is advisable to limit reliance on laptops for prolonged periods of work (more than a day or two in a row). Used in conjunction with a separate keyboard and mouse it is possible to achieve a much more suitable posture since the screen can be raised to eye level.
Many remote workers are also reliant on access to the required technology, which will vary role to role. This could include hardware well as access to programs, remote servers, internet connectivity and adequate online security. It is important that organisations provide clarity on where the responsibility sits in terms of achieving these things.
Setting up your day for success
Transitioning to a work from home model can be a big change to the daily structure and routines workers have become accustomed to. Without the usual workplace triggers two things can risk happening: procrastination or burnout.
Just as you would in the workplace, starting your day afresh and with a clear head is essential. Treat your morning routine in the same way as if you were going into work. It goes without saying that maintaining personal hygiene and getting out of pyjamas is the first non-negotiable behaviour.
Many remote workers find that creating a consistent working schedule (including meetings, working blocks and breaks) and planning a to-do list can help with productivity and focus. This provides clarity around what both you and your employer are expecting. It can be helpful to focus on what the three priorities are for the day and the timeframes that should be adhered to in order to achieve them. Completing tasks increases job satisfaction, keeping motivation high.
To avoid burnout and productivity slumps, it is important to set aside time for breaks throughout the day to walk around, stretch, eat well, hydrate and escape cabin fever by breathing in some fresh air. Without the stimulus of being around colleagues in an office environment, remote workers must remember to keep moving. Use phone calls as an opportunity to shift context, stand up and walk around. Locking break times into the calendar can be an effective way of sticking to a regular routine. Having clearly defined breaks also helps to encourage productivity pushes within the defined work blocks.
Invest in your down time
With the removal of the daily commute, home working provides the gift of time. What can be achieved in the cumulative hours usually spent commuting in and out of an office across a week, month, year? Invest in this time. Identifying personal goals is a valuable way to get the most out of this time. Having clear personal goals also encourages good habits and lowers the risk of falling into unhealthy patterns which ultimately impact productivity as well as physical and mental wellbeing. Learn a new skill, read a book, spend more time communicating with loved ones, take on a fitness challenge.
Staying connected
Whilst it may seem easier to remain connected to colleagues in an office space, technology is a very effective way to maintain a sense of community when working remotely.
When remote working is a new experience for an individual or a full team, communication is more important than ever. Without the impromptu coffee machine chat with a colleague, isolation and loneliness can be an unwanted by-product of remote working, particularly when the arrangement has been enforced. It is important for leaders and the wider team to proactively encourage check-ins throughout the day on both a personal and professional level. If struggling to maintain a clear picture of priorities, a wrap up call with a supportive manager can be an effective way to refocus and keep spirits high.
Video calls are an easy way to hold effective meetings whilst increasing engagement, whether undertaking one-to-one catch ups or a full team hang out to kick the week off. Have fun with your colleagues, virtually! Make sure you continue to connect with them on a human level, maintaining knowledge of their needs, wants, struggles and successes. There are many tools available both free of charge and as a paid subscription, suitable for organisations of all sizes and budgets. A few that are gaining momentum in the market with the increase in remote working are Google Hangouts, Zoom video conferencing and Microsoft Teams.
Limiting distractions
Distractions are an inevitable reality in any role, whether office based or while remote working. Blurring the boundaries between the workplace and a domestic environment has its challenges; 10% of workers cited distractions at home as their biggest hurdle when working from home. With that being said, many workers find they are more productive at home, away from colleagues and environmental factors.
At home, distractions come in many forms and even more so when there is little or no physical boundary between common areas and the home office. Use whatever habits and tools you have at your disposal to ensure that your working day aligns to what you would expect of yourself and what your employer would expect of you if you had commuted into the office.
Partners, children, housemates, neighbours, devices, pets and domestic responsibilities can all impact attention levels. Working from home with children can be particularly challenging, even more so when this is a newfound situation and a single parent or a couple are working from home without additional caretakers. Setting a routine, splitting up duties and providing creative ways to keep children focused can be essential. As much as possible it is important to provide those around you with clarity on what is defined as work time versus non-work time. Try to limit interactions to take place within your scheduled break time.
Trial and error may be required to identify what works best and where improvements can be made to set yourself up for success. For example, if household chores are creeping into your day, ensure these are completed the night before. If a clean and orderly space is important to you, organise this before your working day begins. If the family dog is impacting your focus, rein them in with a long morning walk.
Calling it a day
Removing the workplace trigger signalling the end of the day through the commute home can result in overworking. With an infinite list of to-do items it can be difficult to switch off. This is particularly true when your personal life and home office are under the same roof, meaning there is no physical and/or psychological boundary between the two.
Remember to monitor working hours and stick to a defined schedule wherever practical, ideally removing home office items from sight allowing you to truly switch off and come back refreshed for the start of a new day.