Spotlight Series: Workplace Culture, The Impact of Virtual Environments
May 22, 2020 @ 11:00 am

-

11:30 am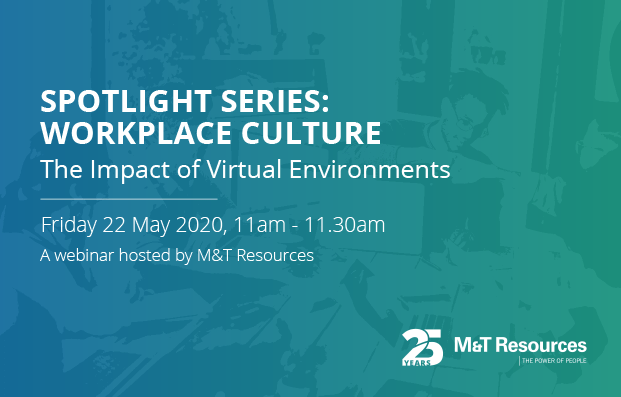 M&T Resources is pleased to present the first event in our new series of webinars focused on workplace culture.
Join us for this spotlight webinar exploring the positive and negative impacts on organisational culture raised within the COVID-19 lockdown. What culture factors do business leaders need to consider when developing an effective 'return to work' roadmap?
Hosted by M&T Resources' Regional Manager NSW, Steve Tompkins, we will be joined by Michelle Starr, a leading expert in workplace culture with over 20 years' experience in transformation and advisory services across the government and commercial sectors.
Register for this event
To register and to receive access details for this free webinar event, please email Vicki.Hope@mtr.com.au.
About the panel
Michelle Starr, Strategy, Culture and Transformation Consultant, GenEQ
Michelle Starr has over 20 years' experience managing transformation initiatives and providing strategic advisory services across both government and commercial organisations. An independent management consultant, her areas of specialisation are workplace culture, business strategy, transformation / strategic change, and leader coaching. Trained in the Hofstede Insights Organisational Culture certification, Michelle uses the HI tool to accurately measure an organisation's culture. She assists organisations in identifying and understanding culture dynamics / levers, and aligning structures, practices and behaviours with strategic business objectives. With an educational background in philosophy, psychology, organisational change and coaching, Michelle approaches workplace culture and transformation challenges with a lateral lens that takes both employee outcomes and strategic / operational business imperatives into account.
.
Steve Tompkins, Regional Manager NSW, M&T Resources
Steve Tompkins has been Regional Manager NSW of M&T Resources since 2018. He benefits from over 20 years of experience in technology recruitment gained both in Sydney and the UK. Steve takes pride in developing strong relationships with his clients and works closely in partnership with them to gain a strong understanding of their business and the challenges they face. Steve has strong ties to the Project Management Institute, as the Associate Director for Career Development of the PMI and a trusted advisor to the Sydney PMI Board. He is a career coach and has developed the PMI Career Development Course for Project Managers.