Agile Networking Series Recap: "Stories from the Trenches"
M&T Resources' Agile Networking Series is back with a bang, following the latest successful event held in Sydney.
M&T Resources launched the Agile Networking Series as a platform for Agile professionals to share insights, discuss ideas and network, with a purpose to improve business outcomes through collaboration. Since 2016 we have held successful events in Melbourne and Sydney, and we look forward to contributing to the continued advancement of the industry.
Events such as the Agile Networking Series are a way for M&T Resources and our team to use our networks and expertise to support the communities in which we operate, in line with our company purpose "helping people achieve greater success." We look forward to continuing to contribute to the advancement of the Agile community by providing regular forums for collaboration.
Through conversations with our Agile network, our team identified a growing need for events that enabled established Agile professionals to come together and share their "Stories from the Trenches." Although the industry is not short of its Agile-specific events, our contacts were seeking more detailed insights into what their peers had done to overcome challenges and achieve success within the diverse organisations in which they were operating. Georgia Cohen and Lorena Garmendia took the reigns and facilitate this, through an ongoing Agile Networking Series to be held in Sydney.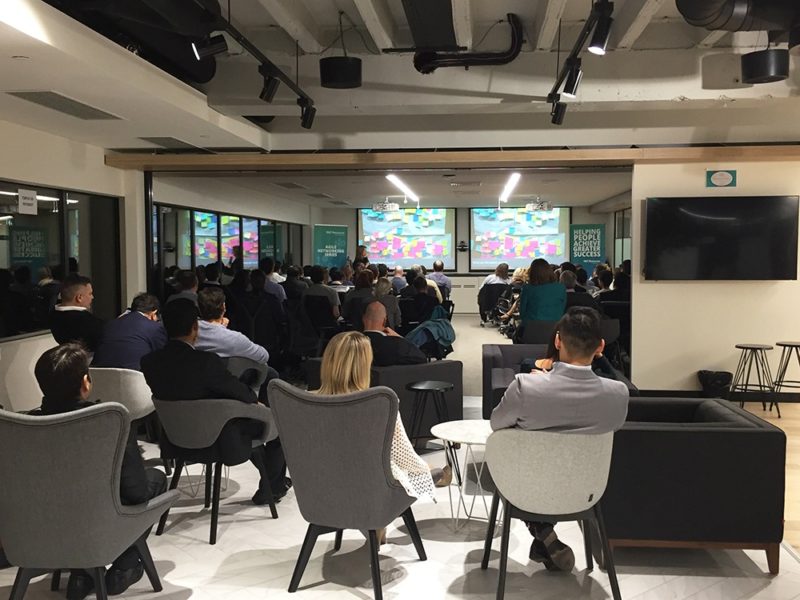 At the inaugural event in Sydney, we were very thankful to have two Agile specialists open up the series with insightful presentations backed by years of industry experience and a wealth of experience from which to draw:

Alexandra Joseph is driven by the desire to bring humanity and customer focus back into the workplace. She helps people rethink the way in which they work and make decisions. From an early career that saw her manually recording general journal entries and balancing the grand, gold lined, General Ledger every Friday, she moved into front line banking before embracing the digital age where she helped shape accounting products and practice management systems for over a decade. She now follows her humanity-first approach to steer business transformation and cultural change, while leading large agile teams in multi-million dollar solutions designed for customers – most recently at CPA Global, NBN Co, Downer EDI, and Westpac.
Being involved in the Agile Networking Series has re-confirmed to me how important it is to share and hear from the extended Agile community. It is interesting to explore the different levels of Agile maturity within different organisations, and is encouraging to see the unity of Agile minds in discussing real Agile Transformation challenges. M&T Resources were a delight to work with. They provided clarity on their vision for the event from the start, were professional, organised and focused on ensuring value-add for attendees.

Sarah Atkinson is a change agent. She excels at making the complex simple, opening teams and individuals up to the possibilities within. A practitioner and realist at heart, curiosity, experimentation and pragmatism are at the core of Sarah's DNA. Her hands on experience and passion is backed by over 15 years of successfully building, coaching and leading teams, and working with senior executives. Having led the Agile Transformation at Commonwealth Bank, Sarah co-founded Pragmateam to provide Agile transformation, training, coaching and delivery services with like-minded practitioners. Sarah and her team are now leading transformation initiatives in organisations including the Australian Government's Digital Transformation Agency, Telstra Digital, MedicalDirector, Hey You, Expert360, SBS, ABC and Tyro Payments. Sarah is passionate about supporting leadership to achieve their strategic goals, whilst working closely with the teams on the ground to increase their capability through delivery.
Through feedback on past events in the Agile Networking Series, held in Melbourne, the event structure was adapted to provide ample opportunity for professionals to collaborate, rather than being restricted to a presenter / audience arrangement. Presentations were reduced to two speakers, with Q&A opportunities followed by networking and the introduction of a "fishbowl" session.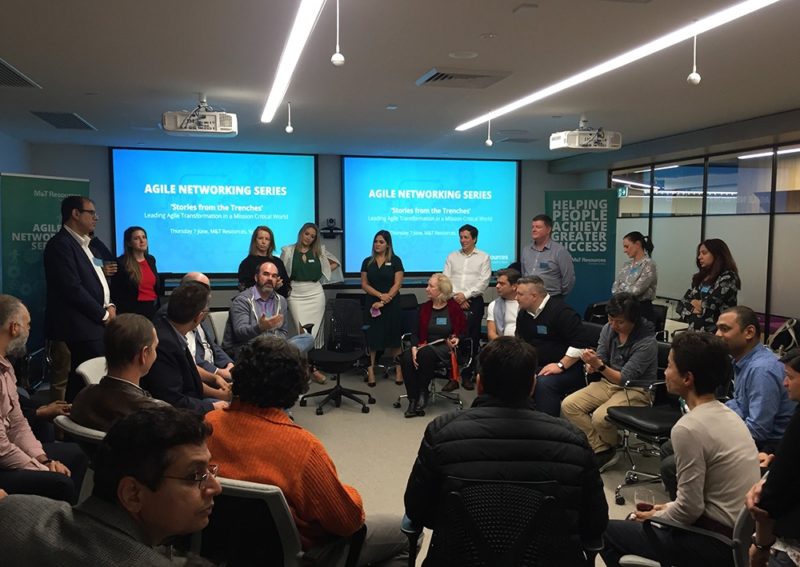 The participatory fishbowl session was a great success. Fifteen chairs were arranged in a circular format and fourteen attendees were seated for discussion. The remainder of the attendees surrounded the seated participants and had the opportunity to join the circle by taking seat in the single empty seat at any time, in order to take part in the conversation. If at any time a member of the standing attendees joined the seated participants, a member of those already seated were required to leave the fishbowl. We found that this allowed the conversation to continuously flow with changing participants providing an ever-shifting personality dynamic. The session received great feedback from those involved, many of whom requested a longer fishbowl session at the next event in order to have more scope for participation and varied discussion.
Awesome night! Fishbowl was great.
Loved it! Great participation.
To round off the Agile Networking event, a drinks and canapes reception was held to allow attendees to mingle, make new contacts and continue the valuable conversations being held during the event.
Feedback is a powerful tool and we always love to proactively seek feedback on our events – the great, the good, the bad (…and even the ugly, although we always hope there isn't too much of that…!) We were pleased to have some fantastic feedback, including some valuable food for thought that will certainly inform the next event in the Agile Networking Series.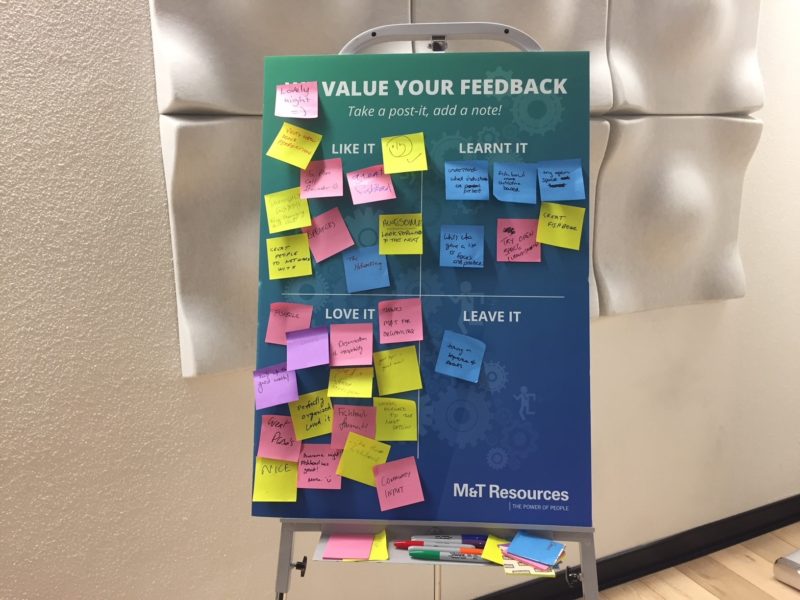 Thoroughly enjoyed! Keep organising such events!
Great people to network with.
Try to include open space next time!
Make the fishbowl more outcome based.
Perfectly organised. Loved it.
Good topic, great event.
Again, a big thank you to everyone who made the event successful – our fantastic presenters Alexandra Joseph and Sarah Atkinson, as well as everyone who attended to listen, share their insights and build networks with the Agile community.
Future events in this series
We are in the process of planning the next event in our Agile Networking Series, expected to take place in October / November 2018. If there are any topics or formats that you think would be valuable and interesting for agile professionals, or if you would like to speak at or facilitate the next event, please don't hesitate to get in touch.
Do check out M&T Resources' events page for any upcoming events.
Join our Agile mailing list!
Our events are free of charge, invitation only, and targeted towards experienced Agile professionals.
To stay in the loop on the M&T Resources Agile Networking Series, please fill out the form below to be added to our Agile mailing list. On providing your details you will be sent an automated email with a link to confirm your subscription. You are able to unsubscribe at any time.
Note: We do not disclose personal information for any other purpose without consent except where we are required to do so by an Australian law or a court / tribunal order. For further information on our privacy policy and our complaints process please read our privacy policy on our website.