PMI Sydney Chapter's first Career Week kicked off with a bang on Monday 23 July, with a week of events and presentations designed to provide real value to PMI members and the wider Project Management community.
As Gold Sponsors of PMI Sydney, M&T Resources was delighted to be involved in PMI Career Week, allowing us to give back to an industry that we are so entrenched in and passionate about. Steve Tompkins, M&T Resources Manager – Government & Commercial, played a key role in the organisation of the events from inception to delivery, as PMI Sydney's Associate Director for Career Development.
I'm proud to be part of the Sydney Chapters first Career Week. It was a pleasure to see the event grow from an idea 1 year ago into, what proved to be a great week with great feedback. I would like to thank everyone involved. It was humbling to watch all the volunteers and my guest panel speakers dedicate so much of their free time into give something back to the Project Practitioner community. – Steve Tompkins, Manager – Government & Commercial, M&T Resources
Career Week ran over three evenings with an exciting schedule of events geared towards the Project Management community, providing both valuable insights and a great opportunity for networking.
Career Week Day 1: Starting Out – How to Get Your First Role in Project Management, 23 July 2018
The first event in the series was targeted to professionals starting out in their project management careers. It provided ample opportunity for networking with PMI leaders, professional recruiters and peers within the project management community, as well as presentations from LinkedIn, a panel discussion, and introduction to the PMI Mentoring program. Attendees received insights into how to optimise their online LinkedIn profile, and received tips and tricks from the M&T Resources team on building a successful resume.
Speakers:
Aline Sarreta, Project Coordinator, Ausgrid
Mohammed Umar Khalid, Project Manager, Ausgrid
Vivek Krishna Prasad, Project Manager, Ausgrid
My Tran Le, PMI Australia Project Manager of the Year winner and Senior Project Manager, JDA Software Group
Katie Clinch, Customer Success Manager, LinkedIn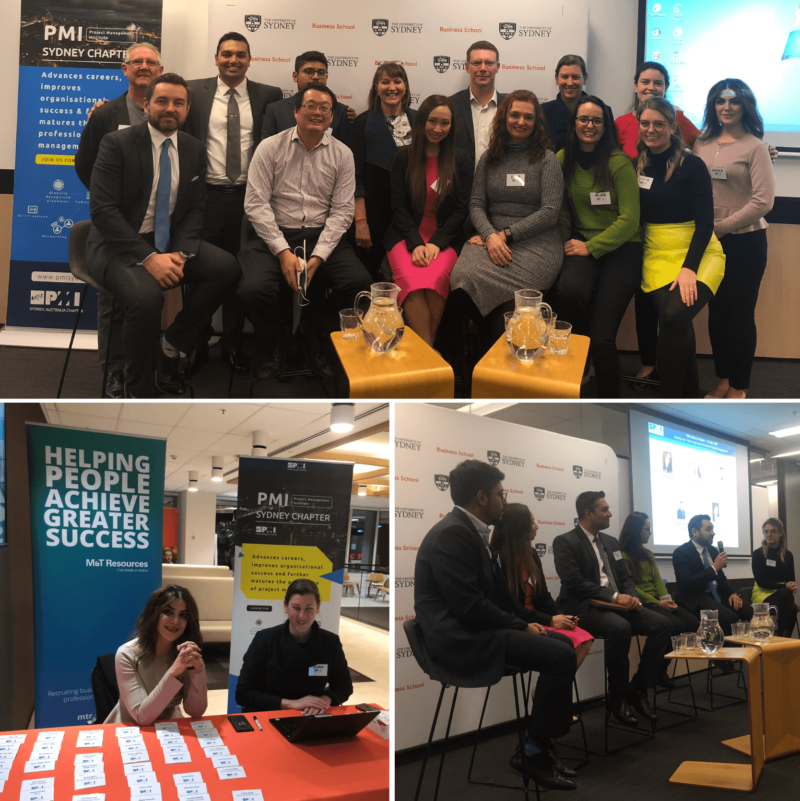 Career Week Day 2: Tips to Future Proof Your Career in Project Management, 24 July 2018
The second event welcomed an audience of 60+ Project Managers looking for advice relating to specialising in the Agile, Business Intelligence and Big Data / AI markets, and what the future may hold for project management. Geared towards established Project Managers, the event also delivered insights on current and future trends, hot skills, market updates and opportunities.
Speakers:
Mike Ducie, Business Intelligence
Alexandra Joseph, Agile Transformation
Damien Roache, Big Data & AI

Career Week Day 3: Lessons from the Leaders – How to Advance Your Career in Project Management
M&T Resources was delighted to host the final event within our boardroom and offices. Targeted towards more senior Project Managers and Program Managers, the event consisted of a panel discussion led by M&T Manager – Government & Commercial, Steve Tompkins. The panel consisted of thought leaders in the project practitioner community, who shared their insights on how they fast-tracked their careers, and provided tips on progressing and guidance on how to select the best candidates within a competitive marketplace, including advice on what makes applicants stand out from the crowd. Members of the M&T Resources team were there to support the networking portion of the evening by providing specialist careers advice to attendees, as well as shining light on current opportunities with leading Australian organisations.
Speakers:
Steve Tompkins (Panel Lead), Manager – Government & Commercial, M&T Resources; Associate Director for Career Development to the PMI Sydney Chapter; advisor to the PMI Sydney Board
Richard Linstead, Head of Innovation Programs and Ventures, Westpac Group
Alicia Aitken, Head of Investment Management & Delivery, ANZ
Alastair Bor, CTO, Ecofibre Industries Operation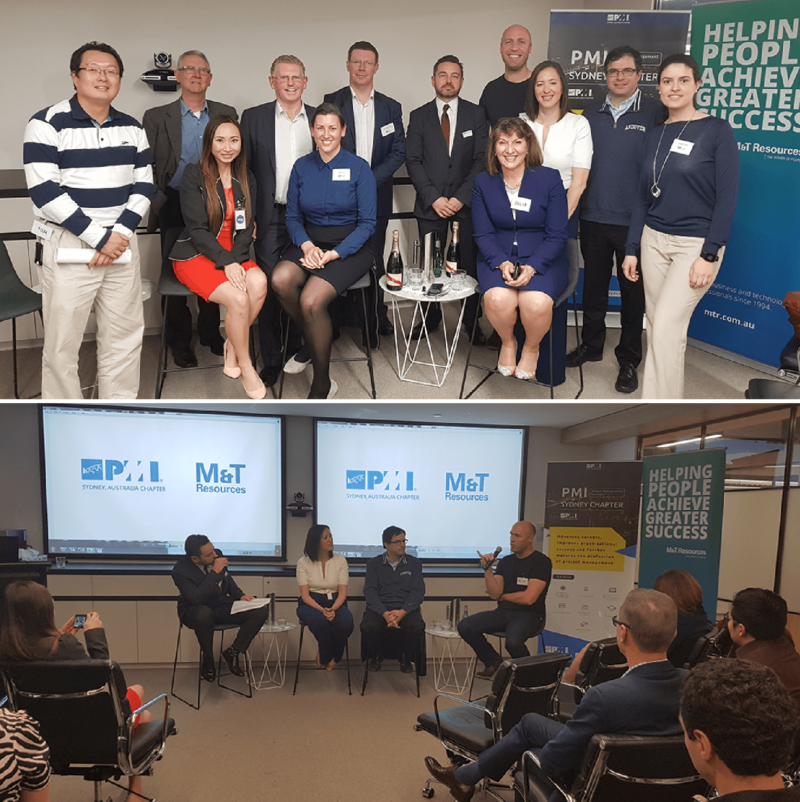 Career Week was marketed to 1450+ PMI Sydney Chapter members. We received excellent feedback from all events and were pleased to have provided lasting value to the 70+ who attended each evening. A key take-home from the event was the real benefit of bringing together the project practitioner community, from junior through to executive level, in a forum that promotes knowledge sharing and networking.
As Gold Sponsor to the PMI Sydney Chapter, M&T Resources looks forward to working with the PMI on future events, bringing our expertise in the business & technology space to support the professional advancement of the Project Management community.
About the PMI Sydney Chapter
PMI Sydney Chapter purpose is to serve our membership base and making Project Management Indispensable for Business Results in New South Wales. Through this, we aim to support the professional growth of our members, corporate organisations and communities. www.pmisydney.org
About M&T Resources
Established in 1994, M&T Resources helps leading organisations deliver on their technology and business vision through innovative talent engagement, attraction and retention. Its relentless focus on candidate aspirations and client outcomes have seen it become one of Australia's most awarded recruitment firms. M&T Resources is part of ASG Group and has offices across major Australian cities. www.mtr.com.au
About Steve Tompkins
Steve Tompkins is Manager – Government & Commercial at M&T Resources. Steve has 19 years' experience in the Project Management and Technology Recruitment Industry in Sydney and the UK. His main area of specialization and passion is in the sourcing, delivery and support of Project Practitioners, delivery teams and Project based resources. He is the Associate Director for Career Development of the Project Management Institute Sydney Chapter and a trusted advisor to the Sydney PMI Board on recruitment matters. He is a career coach to several senior PM's and has developed the PMI Career Development Course for Project Managers. Commercially he takes pride in developing strong relationships with his clients and works closely with them to gain a strong understanding of their business and the challenges they face.
Specialties: Project staffing, Project Managers, Technical Recruitment, Senior recruitment, Account Management, Recruitment team / delivery management, Human resource allocation, Interview coaching, work load levelling, Head hunting, Business Development, Networking, Relationship Building, Career development through branding and Social Media and Career coaching.