IT Health Workshop Recap: "Early Intervention of Disease Through Data Innovation"
Since 2012, M&T Resources' IT Health Workshops have been providing the local health technology community, including CIOs and emerging leaders, a space to share insights, discuss ideas and network. Our Health Account Manager Emily Martyn reports on the latest workshop, held in Brisbane.
I would like to begin with a special thanks to our facilitator and panel members, whose specialist insights and contributions were invaluable to the success of this IT Health Workshop: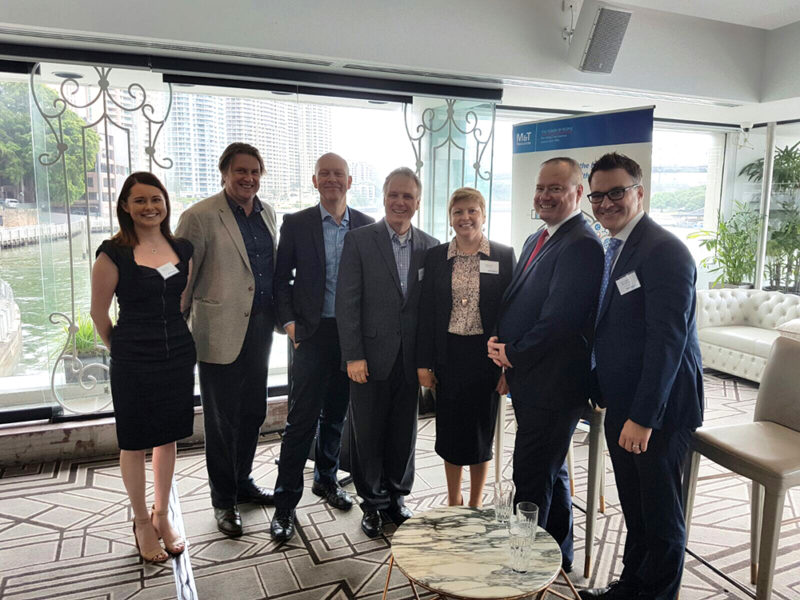 From left to right: Myself with Dr Andrew Hugman, Michael Draheim, David Kempson, Wendy Flavien, Mark Brommeyer and Mark Limbrick (Regional Director QLD, M&T Resources)
We began our series of IT Health Workshops with the purpose of improving patient outcomes through collaboration and knowledge sharing in the health technology community. We hope to connect the health community, giving professionals a space to ask questions and share insights into the industry. I'm very pleased to have received excellent feedback following the workshop, both from attendees and panel members.
I worked with Emily as the moderator at M&T Resources' recent IT Health Workshop. I found the event to be very professionally run and well coordinated, providing an opportunity for a range of experienced and senior colleagues working in health technology to come together, make valuable contacts and learn from one another. I would like to thank Emily and M&T Resources for the great work that they do in support of health technology. Quality events like this are few and far between in our industry and I believe it is a great avenue to assist in developing more knowledgeable, skilled professionals, within health and across the healthcare sector. – Mark Brommeyer, Managing Director, Brommeyer Consulting Pty Ltd
The workshop took the form of a panel style discussion. Each panel member commenced with a two minute "state your case" on various topics surrounding our main theme "Early Intervention of Disease Through Data Innovation".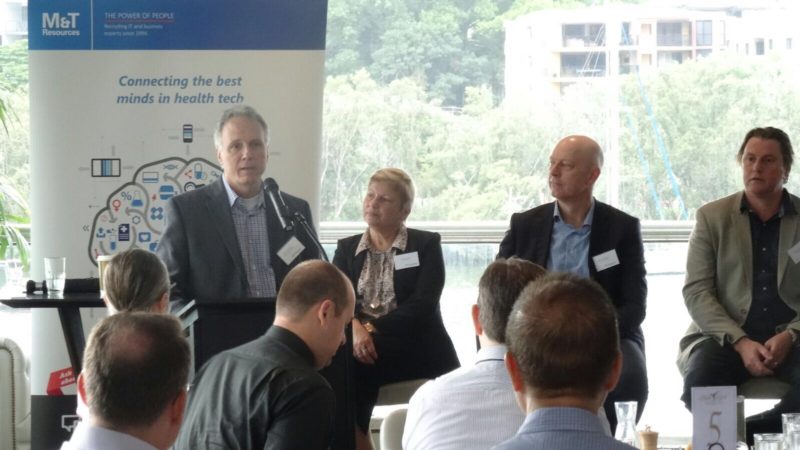 Wendy Flavien kicked off by presenting her thoughts about secondary use of data in health and interoperability, which was followed by Michael Draheim's discussion of Big Data and digitisation. Dr Andrew Hugman then focused his presentation on disease profiling / personalised medicine. Concluding the presentation portion of the workshop, David Kempson spoke about digital consumer engagement.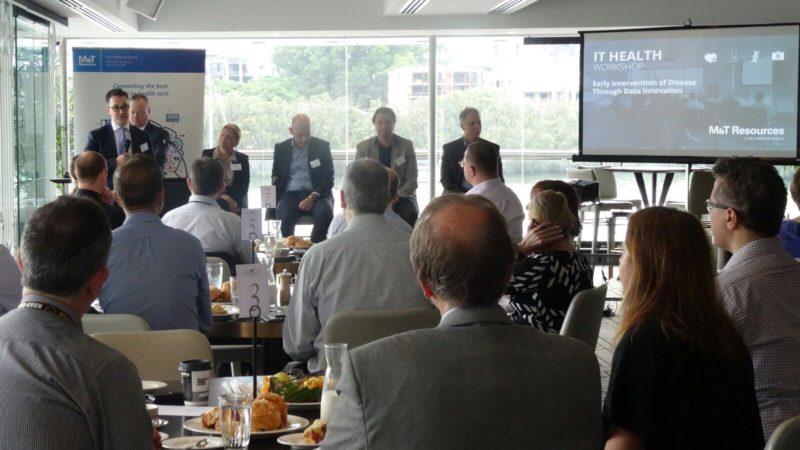 Throughout the workshop, Mark Brommeyer played an invaluable role in facilitating the discussions. He opened the floor up to participants, allowing them the opportunity to engage with and pose questions to the panel.
Some of the questions asked included:
Is it ethical to use personal health data for other purposes?
How do we overcome the challenges in interoperability between the HHS's and eHealth?
What is the future of digitisation in health?
Are there any "lessons learned" that we could adapt from NSW Health?
How do we bridge the gap between clinicians and the ICT teams?
We concluded the session with a networking and breakfast function at the beautiful BlackBird Bar and Grill in Brisbane CBD, allowing participants the opportunity both to build relationships and to delve into further topics with their industry peers.
I am in the process of planning the next workshop. If there are any topics that you think would be valuable and interesting for senior IT Health professionals, or if you would like to speak at the next event, please let me know! If you would like to be kept in the loop on future IT Health Workshops, or to join our IT Health Newsletter mailing list, please drop me an email: emily.martyn@mtr.com.au.
Do check out M&T Resources' events page for any upcoming events.