IT Health Workshop Recap: Print & Imaging-as-a-Service at West Moreton Hospital and Past Programs at the National Health Service (NHS) UK
Since 2012, M&T Resources' IT Health Workshops have been providing senior-level health technology people, including CIOs and emerging leaders a space to share insights, discuss ideas and network. Emily Martyn, our Health Account Manager, reports on the insights from the latest workshop, covering Print & Imaging-as-a-Service at West Moreton Hospital and a retrospective view on past programs completed within the UK's National Health Service (NHS).
Firstly, a huge thank-you must go out to our two presenters of this quarter's IT Health Workshop, held on May 26 – Nasa Walton (CIO of West Moreton Hospital) and André Snoxall (Program Director at Queensland Health). Their passion about the Health Care Industry came through and it was a great privilege hearing their expert thoughts and advice on past projects and programs.
Based on conversations with attendees to the workshop, both presentations were considered to be extremely Engaging, Relevant and Informative.

Nasa Walton kicked-off the event, discussing the challenges and benefits of implementing print and imaging-as-a-service at her base of West Moreton Hospital. Nasa provided insight into the sheer size of the West Moreton Region which came as quite a surprise to much of the audience. She revealed that currently the region has a population of about 252,000 people which is expected to expand to 450,000 over the next 10 years. Nasa highlighted the issues surrounding this rapidly increasing population and the associated expectation and pressure to provide a continuously growing and improving health service to cater for this influx.
Recently, West Moreton Hospital embarked on a Print & Imaging program which is now in the final stages of roll-out. Partnering with Fuji Xerox, the hospital was able to drastically reduce clinical risk, by printing arm bands instead of hand writing them; improve printing productivity & security, through the use of follow me printing; and reduce the physical space required by the 430+ devices.
Nasa's passion for the health industry was evident throughout the presentation, and in particular for this program.

André Snoxall then took the stage to share with us a snap shot of the time he spent working in the UK, within the NHS. André has extensive experience in the Health Care Industry, having worked in various roles around the world for almost ten years. His presentation provided the audience with an interesting comparison of some of the differences of working with UK Health & US Health systems.
André detailed the hard lessons learnt during his time at the NHS, and the actions he took to overcome the challenges with large software implementations. It was interesting to hear his observations from the program, including firsthand experience working with a number of difficult vendors. André also discussed the importance of business change and the impacts that change has through the course of a program.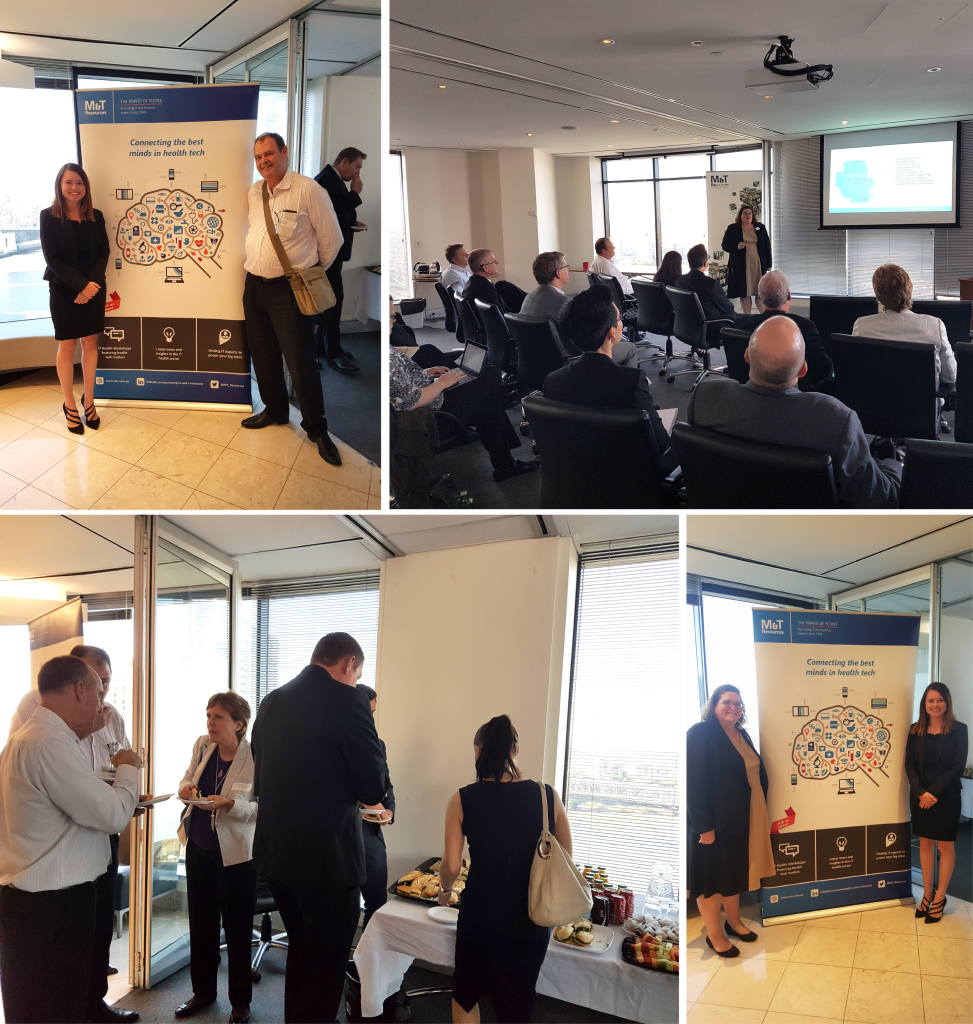 Future workshops
I'm still in the process of planning the next workshop. If there're any areas of topic that you think are interesting for senior IT Health professionals, or if you would like to speak at the next event, please let me know! If you'd like to attend our future IT Health Workshop event, please drop me an email to: emily.martyn@mtr.com.au.
Do check out M&T Resources' events page for any upcoming events.