Welcome back Mark Limbrick, Regional Director for Queensland
M&T Resources is excited to welcome back Mark Limbrick who has returned after a 6-month secondment as the Philippines Location Manager for SMS Management & Technology.
Returning to his role as the Regional Director of our Queensland office, we squeezed out some time to chat with him to find out what he's been up to at the Philippines, what he's learned from his stint, and what he's most looking forward to back at M&T Resources.
Welcome back Mark! Mark, tell us briefly about what your role as the SMS Location Manager entailed?
My role at the Philippines Location Manager was really to set up the new SMS Management & Technology (SMS) office in Manila.
It involved establishing the office and working closely with service providers to lead the recruitment of the best people in Manila market.
At the same time, consulting with the SMS business in Australia to put in place the right engagement practices. This is to ensure that they can effectively leverage the Manila office as a delivery centre to deliver great outcomes for SMS clients.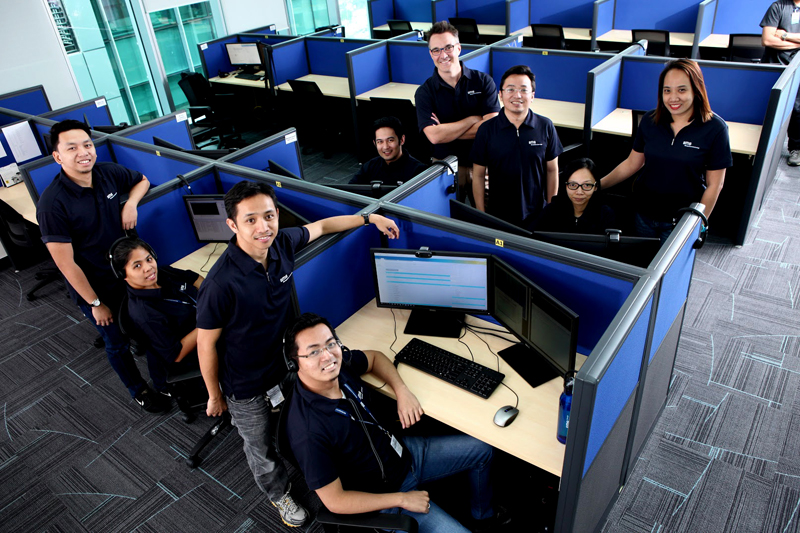 Mark with the SMS Philippines team
What were the challenges in the role?
The main challenge to me initially was working in Philippines – a place that I don't know much about – and having to quickly learn about their cultures and the market.
I quickly discovered that the Philippines IT market is very mature in terms of delivering on offshore projects. So the team that I built was actually very experienced in working within this environment. They know what they need to deliver on and how to overcome the obstacles that arise from working on the other side of the world.
The challenge then becomes, "Right, how do we engage the SMS business back in Australia to fully embrace the Manila office?".  It's more about executing change programs and communications so that our colleagues back in Australia clearly know when and how to engage the right delivery model that suits the needs of our end clients best.
Mark, you were the Regional Director for the Queensland office since 2008 and since then have led the office to much success including winning many new clients and leading the team to recruit many high profile roles. What spurred you to take up this new challenge?
There were many reasons really. I've always wanted to experience how it's like working in Asia. Having been with M&T Resources / SMS for eight years, I've always thought that if there ever was a chance to help start up a new office, whether that's with M&T Resources or SMS, I'd certainly put my hand up.
Looking at what SMS wanted to do, I quickly realised that I have the right skillset because of my recruitment background, general management experience and  knowledge of  workforce planning / resourcing in a consulting company.
When I first heard of the opportunity, it was a fairly quick decision as it was an attractive opportunity, it was a secondment for a definite period of time only and that means I can return back to my role at M&T Resources which I love.
Just a bit more on that. Why did you want to work in Asia?  
Well, I worked in Netherlands and the UK before arriving in Australia in 2004. Back then, I've always thought that I'd like to experience working in different countries and different working cultures. But as things happened, I fell in love with Brisbane and Australia and settled down here.
Since then I have travelled extensively in Asia and I've always wanted to experience working in Asia because of the huge market opportunities and cultures. The global nature of somewhere like the Philippines where people are well-known for delivering on major projects for global clients added to the appeal. In fact, many of the staff I was working with have experience working with American, Australian and European global clients.
What are you most proud of achieving during this 6-monh stint?
In my first month, I remember that we were in this very, and I meant, VERY basic office in a busy part of Manila. We had just a few core staff members. It was a completely new, start up environment. There were no processes and things that you'd expect an office to have such as a kitchen, stationery or a printer.
There was a lot to do in terms of the physical environment, but more importantly, in setting up the engagement processes with the Australian business and getting the team on board.
Six months later, I'm most proud of the team that we've built. We have recruited some outstanding people and now have a lovely , modern office space that is well set up to succeed. We're in the same block as the likes Accenture, Google and several other technology companies!
If you could go back in time to six months ago, what advice would you give yourself about taking up this role?
As I said, I initially thought that the big challenge would be to learn about the market and local cultures. Turns out that these were the fairly easy part because the people that we engaged and hired are very savvy in the offshore delivery model.
The bigger challenge was how to ensure that the engagement and delivery processes work so that our Australian business can get the very best out of the capabilities of our Philippines office.
Even basic things such as optimising use of technology for communication or encouraging the Manila team to initiate video conferences and chat messages instead of telephone and e-mail.
I would say to myself – concentrate on ensuring complete integration. Focus on creating a great service experience for our Australian colleagues when engaging the Philippines office and seamless transition when delivering on client projects.
What was the most memorable moment you had setting up the Philippines office?
The most memorable moment I had was spending time with the team there. They were always trying to get me to eat local food and delicacies without telling me what it was. One time, they wanted to make me try "balut", which if you did a quick Google, it's actually developing duck embryo that is boiled and eaten from the egg. Didn't try it, but I did accidentally eat some cow intestines.
I'll always remember the generosity of the people there. When I left they really recognised the effort I'd put into the office and how far we've come. It's something I'll never forget.
What do you miss most about the Philippines?
It has to be the people there. The team I worked with – they're always very warm and happy. We live in Australia, a "first world environment" but we sometimes tend to forget our privileges.
The team there face constant challenges but that never seem to get them down. They're very resilient.
For example, the weather in Philippines can be really bad. During the wet season, the roads are flooded and it's hard to get to work or to get home. But I never hear them complaining about it. They're very hardworking and would still turn up on time – especially considering they work according to Australian business hours which was three hours behind. Some leave their homes at 4am to get into the office by 6am. They just get on with it and do their best at work.
Best food that people should try in Manila?
My personal favourite was definitely the "beef salpicao", which is essentially beef in onions, garlic and chilli. I'd also recommend lumpia which is a savoury snack made of thin crepe pastry skin.
If you've got a sweet tooth – do try halo-halo, which is made of shaved ice topped with condensed milk and mixture of jelly, beans and fruit depending on where you have it.
What are you most looking forward to getting stuck back on at M&T?
As much as I enjoyed the Philippines, I've always wanted to come back to M&T Resources. I've really missed being in the Brisbane office. While I was away the team has done a fantastic job and now I'm looking forward to coming back and driving a big impact on our growth in the next year.
Of course, I really look forward to reconnecting with our clients and contractors that I've not seen in the last six months.